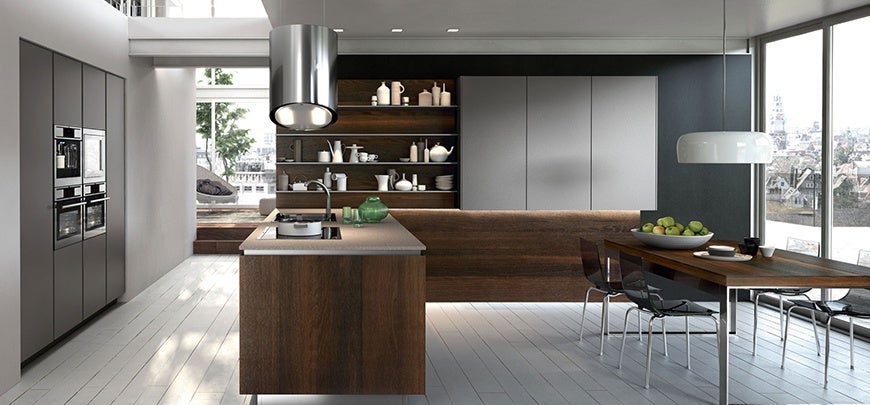 The kitchen is the heart of every home, and as such, it needs to be warm and inviting. Remodeling the kitchen is a great way to increase your home's property value. Whether you have a large or small budget, you can make changes to your kitchen to make it more efficient and visually appealing. Here's how to remodel your kitchen to increase your property value.
Remodeling your kitchen can be a challenging task. However, not only do you want it to look great, you need to consider the functionality and efficiency of the remodel as well. A kitchen remodel requires a bit of homework and elbow grease, and ultimately, you'll have to balance your remodeling needs with a realistic budget. Whether you decide to just make surface-level changes or to completely overhaul the room, you can either hire a contractor or do some or all the work yourself. Below are several kitchen remodeling ideas to get you started.

A going trend in kitchen design is the open concept. A kitchen that connects with a dining room or living room is perfect for entertaining guests and creating a warm environment.
Add additional workspace and value to your home by installing a kitchen island. Not all kitchens have the space, but if yours does, it's an easy way to add value and functionality to the room.
If you have a large budget, consider replacing old cabinets with new, modern ones. Oak and cherry woods are a great choice, as is stainless steel. Dark colors bring a sense of warmth and richness to the room. If your budget doesn't allow for replacing the cabinets, opt to reface them instead. Another cheap option is replacing all the hardware with something modern and elegant.
Green living is in right now and including green choices in the kitchen increases a home's value dramatically. Replace your old countertops with naturally-occurring materials such as glass, concrete, marble, ceramic, granite, or quartz.
If your kitchen doesn't already have them, install backsplashes behind the sink. There are a lot of options to choose from, but ceramic tiles are popular because they come in a variety of colors and are durable and cost-effective.
Natural lighting and artificial lighting are both important in the kitchen. While you want the sun to shine in as much as possible, you want to create a warm, ambient atmosphere as well when natural lighting isn't available. Add glamour, elegance, and functionality with accent lighting like under-the-counter lighting, too.
An energy efficient kitchen is a happy kitchen. Consider replacing old appliances with energy efficient ones and replace old lighting with fluorescent LED options to save on the old electric bill.
Flooring that withstands moisture is best in a kitchen. Vinyl, laminate, cork, tile, and engineered wood are all great choices.
Make your kitchen feel homier and "lived-in" by adding things like built-in chopping boards and wine chillers or update the sink and faucet. Another way to enhance the appearance of the room is to paint walls contrasting colors.
Anything you do to update the kitchen to either make it more efficient or visually appealing will likely increase the overall value of your home. The suggestions above give you some good ideas and are a great place to start if you want to increase your home's property value.
- Justin