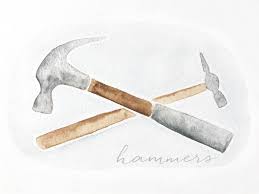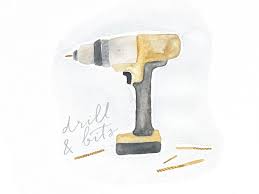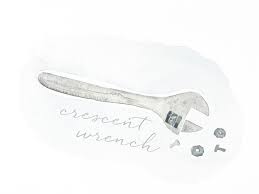 This is an article that I found and wanted to share.  Helpful to anyone of you out there who is about to embark on home ownership or renting for the very first time.  Even though Mum and Dad may still be close by to help with anything that needs fixing around your home, its useful to have at least some of these tools handy, even if its just to hang a picture or unplug the toilet!!!
A multipurpose, battery-powered drill and driver can be used for a large number of tasks. Buy a pack of drill bits with a good selection of Phillips-head, slotted and square-drive bits all in a variety sizes so you'll be prepared for whatever repair jobs comes your way. 
Adjustable Crescent Wrench
You probably don't need a full set of wrenches, just get one or two adjustable wrenches; since its jaws may be adjusted to fit nuts and bolts of different sizes. Some self-adjusting wrenches are self-ratcheting, meaning you don't have to remove them from the bolt to tighten it.
Two hammers should be enough to start your toolbox. Get one heavyweight and one lightweight. Rule of thumb: The size of the hammer should correspond with the size of the nail. The bigger the nail, the heavier the hammer should be. For outdoor projects and big construction projects go for a basic claw hammer. A pin hammer is a lightweight hammer used to drive in small fasteners such as panel pins and tacks. 
Keep an electrical extension cord around the house. They come in handy for outdoor parties, getting a little extra light into a dark corner, Christmas tree lights and of course, home improvement projects.
You should get at least one cutting tool, bigger than a utility knife. For less than $20, a good all-purpose hacksaw can be used for cutting plastic and metal pipes, tubing, conduit, threaded rods, brackets, bolts and wood.
Keep a good selection and a number of general-purpose nails and screws on hand so you'll always have a range of choices available. A box with compartments is helpful for separating nail types and sizes.
A retractable, lockable tape measure is a tiny tool with a ton of uses. You'll find it indispensable when you need to measure for window blinds, rugs, furniture or hanging artwork. Get one that is at least 25' in case you have to measure a room's square footage or need to do some measuring in the yard. 
Use this for breaking down boxes, making precision cuts, cutting the tops off glue bottles, scoring and removing old chalk.
Yeah, you can just stand on a chair, but you'll find a sturdy step stool necessary for everything from changing lightbulbs to dusting the cobwebs out of corners to hanging drapery.  
Even if you have a battery-operated drill/driver, get a set of manual screwdrivers for the simple jobs like changing out a switch plate or tightening a cabinet knob. Get a variety pack with different types of screwdrivers – Phillips, slotted, Pozidriv – or get one screwdriver with interchangeable heads. 
Putty knives are not just for applying spackle. They are super useful for removing old decorative coverings or scraping down loose, flaky surfaces.
Even if you're a renter without the need or desire to do any home improvement, you should own this tool for obvious reasons. 
Buy a set of pliers that has a variety of types and sizes. Locking pliers are a good multipurpose gripping tool. Get channel-lock pliers for larger pipes and valves. Small needle-nose pliers are great for getting into tight spaces and also handy if you're a crafter. Electrician's pliers have a fine point and can usually strip and cut wires.
A Set of Hex Keys or Allen Keys
These are great for putting together furniture (like anything from Ikea), hanging towel bars and for bicycles and toys. One-piece sets are available as a unit like a Swiss army knife for about $10, or you can splurge on a set with a self-ratcheting handle. 
There are a few basic items you should keep on hand to protect yourself. You should have plastic gloves for cleaning or refinishing and leather-type work gloves for dirty work and gardening. If you're working with glass or any type of caustic solutions goggles are a must. Ear protection is always a good idea when using power yard tools like mowers and leaf blowers. And dust masks are good for all the above. 
https://www.diynetwork.com/how-to/skills-and-know-how/tools/2017-pictures/15-tools-every-new-homeowner-should-own
- Justin