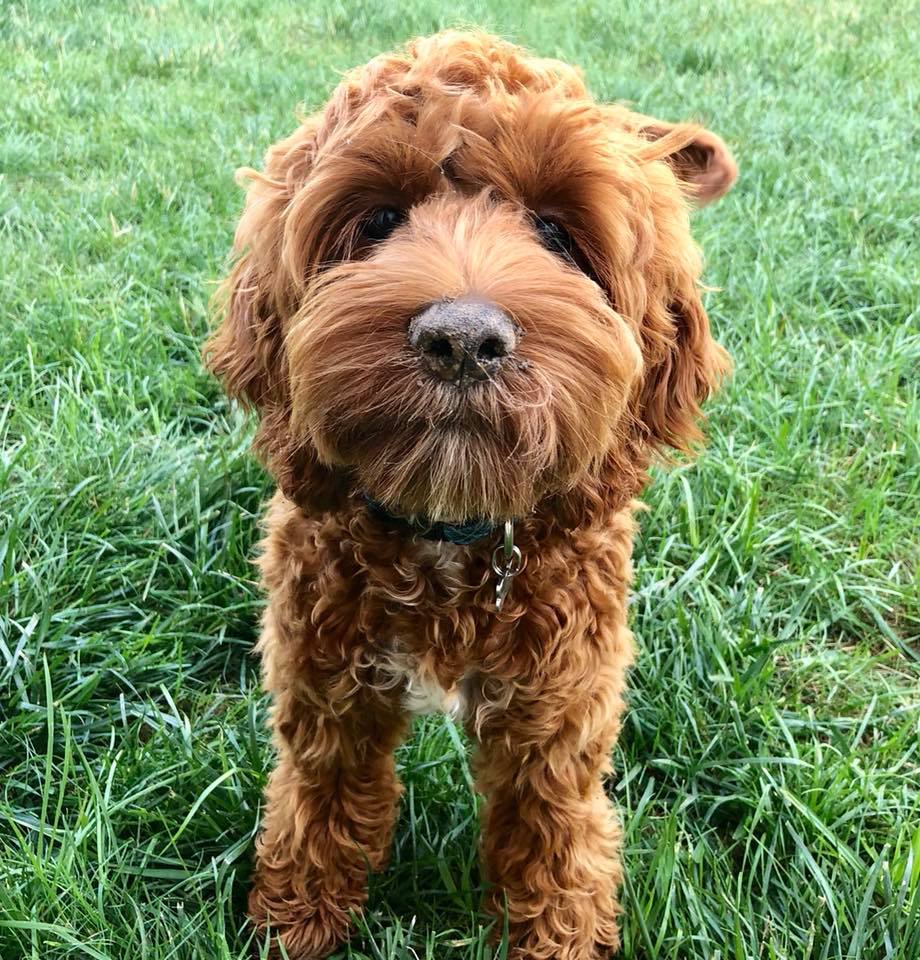 If you're like most people, you have a pet or two roaming around your house.   We do, that's our pooch Crosby in the pic.  As adorable and loving as they are, they can do some serious damage in and around the home. Flooring damage is common in households with pets, which can be unsightly and costly. If you own pets and are renovating, consider the following pet-friendly flooring choices for your house. Not only do they withstand damaging pet behavior, they look great, too!
Of all the flooring choices available today, porcelain and ceramic tiles are some of the best options for homes with pets. This is because these materials are extremely hard and can withstand the constant scratching of pet toenails. Another benefit of this flooring option is if your pet has an accident in the house, the mess cleans up easily and does not damage the floor.
Another great choice for homes of pet lovers is natural stone tile. Granite, travertine, and slate are all superior natural stone materials that do not scratch easily and are stain resistant. While marble is another great-looking natural stone, it is softer in nature, and therefore, is not a good choice for homes with pets.
While hardwood floors are a popular choice for many homeowners, they aren't a good choice for homes with pets. However, you can get the look of a hardwood floor in a stronger, more pet-friendly version by installing laminate flooring. Laminate flooring is much harder, and if you choose one with a textured surface rather than the more common smooth, shiny surface, you won't have to worry so much about your dog or cat slipping and sliding as they run throughout the house.
If you want a wood floor look without the wood floor hassle, bamboo is a great option when you have pets. Bamboo is harder than the hardest wood flooring, and it's naturally stain resistant. This is especially beneficial if you have a puppy or senior pet with bladder or bowel issues. Another benefit of bamboo flooring is the fact that it is completely renewable. If you're into green living, this reason alone makes this flooring choice the right one.
Let's face it, it can be quite a chore keeping up with pets. With cork flooring installed, however, you'll not have to worry so much about things like mold and mildew or allergens because cork is naturally antimicrobial and mildew resistant. Another great advantage of cork flooring in a pet-friendly home is the fact that it reduces sound. This is especially nice when your pets decide it's time to turn multiple rooms into a racetrack.
Most people think vinyl flooring would be a bad choice for homes with pets, but today's luxury vinyl flooring options are much more scratch and water resistant than ever. The nice thing about vinyl flooring, too, is the fact that it reduces allergens and is cheaper than some of the other pet-friendly flooring options for your house.
While carpet and hardwood flooring is not recommended for homes with pets, dog and cat lovers still prefer these choices. Here are a few guidelines when considering these flooring options in your pet-friendly home. Carpet – choose a style that doesn't have loops for toenails to become entangled in and be sure to opt for a more stain-resistant option. Hardwood – try to pick a harder wood like Brazilian Cherry or White Oak and opt for the highest scratch-resistant coating you can get.
Living with pets is great, but there are a few things you should do to make your home a more pleasant place for both you and your pet. Opt for pet-friendly flooring choices for your home.
- Justin