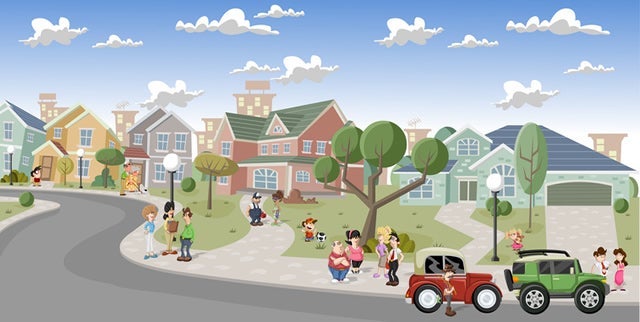 Anytime you buy a new home, you want to be sure the neighborhood is safe. This means it should have very low instances of crimes such as break-ins, shootings, and kidnappings. You'll probably be living in your new house for a long time, so it's important you do everything you can to make sure the neighborhood it's located in is safe. Aside from watching the local news, here are four ways to know how safe your new neighborhood is.
Visit The Neighborhood At Night And Chat With Neighbours
A welcoming neighborhood during the day could be completely different at night. If you have the opportunity, make it a point to stay in the house overnight to get a feeling for how the neighborhood feels after the sun sets. Is there ample lighting? Are there people milling around outside? Does it feel safe enough that you wouldn't mind coming home after dark or heading out for a late-night snack? Alternately, spend some time walking around the neighborhood during daylight hours with the sole intention of meeting your new neighbors. Talk with them about their experiences in the neighborhood and find out what you can about the area from people who have lived there for a while. Inquire about neighborhood watch programs and what the community has done to ensure the safety of the neighborhood.
Look At The Number Of Houses For Sale In The Neighborhood
While many houses for sale in one area doesn't mean people are selling because of high crime in the neighborhood, it does sometimes contribute to higher crime by giving people a place to conduct their criminal behaviors. For instance, neighborhoods with high vacancy rates often house drug production rings and other unsavory conditions. The best way to conclude whether a high vacancy rate is due to crime in the area or economic situations is to compare the vacancies to the crime rate in the area. Alternately, you'd probably be best served to purchase a home in a neighborhood that doesn't have a lot of vacant houses.
Browse The National Sex Offenders Website
No one can tell a sex offender just by looking at him, so be sure to check the National Sex Offenders website for updated information on possible sex offenders living near your new home. If you have children or are a woman living alone, this is especially important.
Check Crime Websites For Information
There are several websites you can check to determine whether a specific neighborhood has a lot of crime or not. Before moving in, check these websites: NeighborhoodScout.com – enter your address to find out crime rates and other crime statistics in your area. CrimeReports.com – compare crime rates in different areas to determine how safe or unsafe a neighborhood is. SpotCrime.com – gives information on police and crime reports in specific areas.
The four ways to know how safe your neighborhood is above will help you decide if the home you're considering buying is a good choice or not. If you have children, or you live alone, knowing you're safe in your new home is a peace of mind worth the extra effort.
- Justin