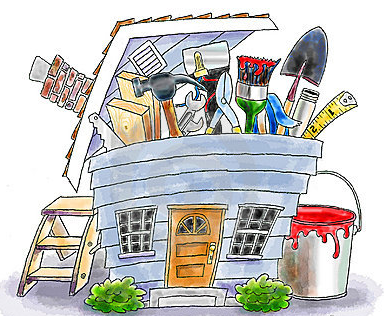 Let me ask you a question first.   When you start the process of looking for your new home, what features and factors are important to you?  I know for me, I would be looking for low maintenance, move in ready, upgrades, newer appliances, updated plumbing, electrical and heating (including a/c), modern conveniences, I want a house that I can move into straight away and not have to worry about fixing up.  I want it to feel fresh, clean, spacious and inviting.  
That's my wish list as a buyer, as a seller you have to be careful not to invest a truck load of cash into updating and transforming your home for sale, just to find that you will never get your money back.  The other thing to remember - updates are very different from maintenance issues and you need to be clear on this.  Do not confuse the two. If you replaced your furnace, that will not add more value to your home. However, if you installed Granite countertops to create more of a gourmet kitchen feel or replace windows and doors for eg to increase efficiency and security over the old ones, you've added value.  
Now quick fixes always pay off and here is a my go to list of items to give you an idea of where you need to start:
Nowadays everyone wants hardwood floors.  I am not saying for one second that you should go ahead and install hardwood flooring in your entire home but flooring is important when you come to sell so if you have hardwood under your carpet, go ahead and get rid of the carpet and spend a little bit of money to get the hardwood refinished or perhaps price out engineered hardwood flooring for specific areas, so really just in the entertainment areas, ie your living, family and dining room etc.  This would be worth the investment.  

If you have carpet in bedrooms and its not neutral, it may be worth spending money relacing it with a neutral shade.  If your existing carpet is neutral in colour, and isn't worn and is in good shape, make sure you have it professionally cleaned.
Replace chipped or cracked ceramic tiles and clean or replace the grout.

A lick of fresh paint does absolute wonders in creating a fresh feel to your home. If you have wall paper, depending on how much and where it is, it might be wise to get rid of it. Give your home that fresh neutral look for your potential buys.  Remember - they need a blank canvass to fall in love with. 

Its true that kitchens and bathrooms sell houses and these rooms are also the most expensive areas to update and fix up. They are however the rooms where you will mostly likely get the most return for your investment as long as the updates you do are for sale and not necessarily what you would want, if you were to remain living in the house.  Your tastes will be much more expensive then doing what needs to be done in order to freshen up and tidy up.  

If your kitchen cabinets are dated and beat-up, your house might not sell if the cabinets aren't replaced. Resurfacing is an inexpensive option.  If your cabinets are simply dated, you can hire someone to paint the wood a trendier color and adding new hardware (I wouldn't do this yourself).  
Granite or quartz counters are not always necessary but always loved by potential buyers. A listing that boasts a gourmet style kitchen is going to be more popular than one that has no upgrades.  Whether to invest in this kind of upgrade does however depend on price point, location and the type of home you have.  Ask your Agent for advice before spending here.  Simple laminates, newer faucets are popular, and sparkling sinks will also sell. Buyers don't want to spot leaky faucets or stained sinks. Be sure to caulk to make it look even more inviting.
New floors, fixtures and lights payoff. Carpeting is a huge turnoff in the bathroom.

If you cannot get the shower doors or glass fixtures clean, replace the door. Lime deposits can etch glass and cannot always be easily removed. If the tub is stained, consider refinishing it.
Paint a light color if the space is small. Lighter colors will make it seem bigger than it is. The wall color in the bathroom does not need to match other rooms in the house.
If your home needs a new roof, replace it. Buyers will shy away from buying a home if the roof needs to be replaced. A new roof won't increase your sale price because it is a maintenance issue and buyers will expect to buy a house with a roof that isn't going to leak any time soon.  

Resurface asphalt driveways, plant flowers, make sure your grass looks good, caulk windows and doors, replace doorknobs and locks and fix or paint fences (replacing is generally not necessary).  The exterior really is the most important part of the house as its the buyers' first impression of your home and you want it to be a good one.  
- Justin