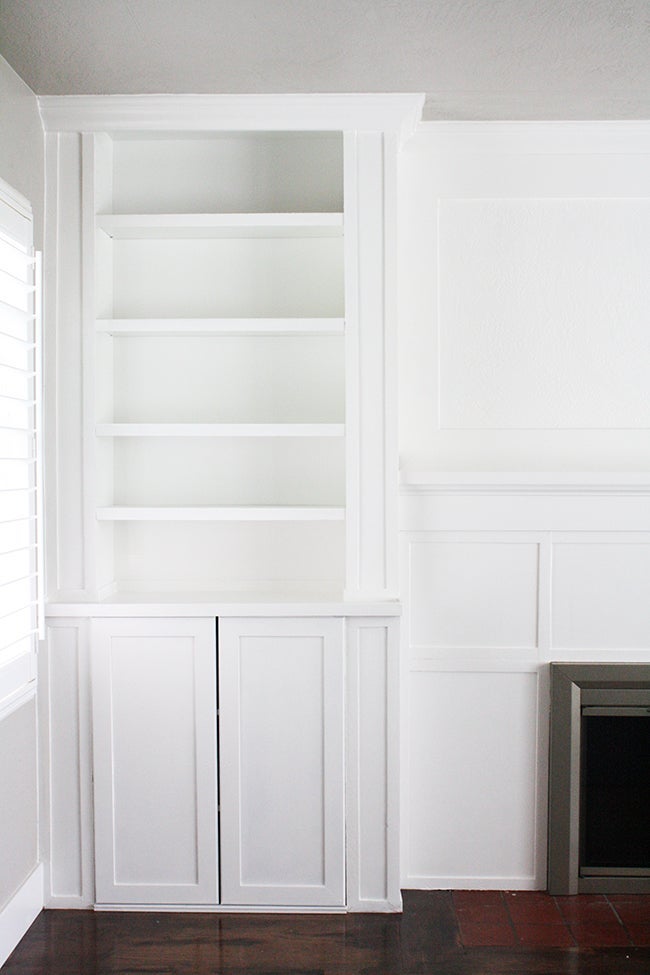 Built-in shelves make any room look more sophisticated. Aside from the flair they bring, built-in shelves also add extra storage space without taking up valuable real estate in small rooms. The problem with shelving units of this kind is the cost. The materials come with a hefty price tag, especially if you purchase them all separately. 
For this built-in shelving DIY, however, we use already-assembled shelving units to cut costs. Here's how it's done.
Gather Your Materials
The key to any successful DIY project is to measure closely before buying your materials. You don't want to spend more than you need to and you certainly don't want to make multiple trips to the store if you don't have to. Start by purchasing a complete shelving unit like Ikea's Billy Bookcase or something similar that fits where you want the shelves to be. Allow room to build a frame around the unit that will compensate for any measurements that don't add up.

For this sample DIY, we wanted shelves on both sides of a fireplace. Once side measured 41" and the other side 43". The difference in size didn't matter once we completed the framing around the shelving units. 
Here is a list of lumber we purchased for the framing. 
Two BILLY bookcases with extension, or similar product. 
Two 1″ x 12″ x 6′ whitewood boards (for tops). 
Two 1″ x 12″ x 10′ whitewood boards (for visible sides next to the fireplace). 
Two 1″ x 4″ x 12″ common boards (Each cut to length, then screwed into the wall studs flush behind each shelf for support. This compensates for the 1″ difference in the whitewood boards and BILLY bookcase depth). 
3″ drywall screws to attach the common board to studs. 
Three 2″ x 4″ x 10′ boards (for hidden sides next to walls and for header frame). 
Eight 2″ x 4″ x 11″ pieces (to fill gaps between shelf and whiteboard on fireplace side). 
Four 4 1/4″ x 1 1/8″ x 9″ plinth blocks of choice. 
Four 4 1/4″ x 1 1/8″ x 4 1/4″ plinth blocks of choice. 
Four 15/32″ x 3 9/16″ x 96″ strips of millwork molding (to cover the left and right edges of each shelf). 
Eight 1 1/2″ x 2″ x 1 3/8″ 18-gauge steel brackets and nails. 
Brad nails (or finish nails). 
You'll also need a miter saw/skill saw, a brad nailer, a drill kit, and a tape measure.
Build The Shelves
Find and mark the studs. Using the drywall screws, screw the 1 x 4 common boards to the studs, spacing them several inches apart from top to bottom for the best support. Remove any baseboards or crown molding that doesn't allow the shelving unit to sit flush. Center the shelving units against the common boards and use the steel brackets to attach them to the strips you attached in the last step.
Measure the wall side of the shelving unit and cut a 2 x 4 to fit. Attach it to the wall. Measure the fireplace side of the unit and cut a 1 x 12 whiteboard to fit. Place cut 2 x 4 boards between the unit and the fireplace to hold it in place. Measure the space between the 2 x4 and the 1 x12 on top of the unit. Cut a 2 x 4 to fit and screw it in place. Measure and cut the 1 x 12 whiteboard to cover the space above the shelving unit. Brad nail it in place. Using brad nails again, put the plinth blocks in place. Next, measure the millwork, cut it to fit, and brad nail that into place, too. 
Arrange the shelves as you desire, adjusting sizes to suit your needs. Lastly, paint, stain and decorate your new built-in shelves!
Justin