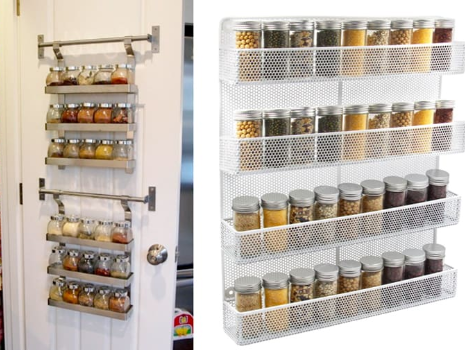 Everyone's got at least one cabinet in their kitchen that's just a mess. Things fall out as soon as you open the door, and you never seem to be able to find what you're looking for amongst all the chaos. If you have a cabinet or two like this in your kitchen, the following list of ideas is for you. Here are five clever storage ideas for the busiest room in your home.
Tension Rods Hold More Than Just Curtains
Under the kitchen sink lies a dark, almost endless void that most people use for storing various spray bottles full of cleaning supplies and what-not. It's virtually impossible to find anything located at the back of the cabinet, right? You can organize that mess and see what you have at a glance by installing a tension rod at the top of the cabinet to hang the spray bottles you use most. Now, when you open the doors, you'll find just what you need without having to venture into the unknown.
If you're like most people, you throw your boxes of garbage bags in a drawer and then fight with them when it's time to take one out. End the fight by installing a cheap paper towel holder on the inside of a cabinet door and placing the role of bags on it.
From Wine (Bottle) To Water (Bottle)
If your wine rack holds more dust than wine bottles and you own more water bottles than you can shake a stick at, repurpose that wine rack into a water bottle rack. Place it inside a cabinet and make it easy for the fam to grab their favorite water bottles.
Or should we say, divide those cookie sheets! Cookie sheets are a pain in the you-know-what. They're big and difficult to store conveniently… until now. You know those vertical dividers that sit atop desks to keep papers separated? Simply put one of those in your cookie sheet cabinet and stand those flat pieces upright for easy access. This idea works well for lids, too.
A good cook can never have too many spices. The problem with all those spices, however, is storing them in the cabinet so you can see what you need when you need it. Remedy that problem by installing a handy spice rack on the inside of a cabinet door. Not only will you be able to identify the spices you need when you need them, but you'll also reduce your risk of injury from falling spice bottles.
A kitchen is a busy place, so there's no time for disorganization. Use the five storage ideas above to reduce the chaos in your kitchen cabinets.
Justin