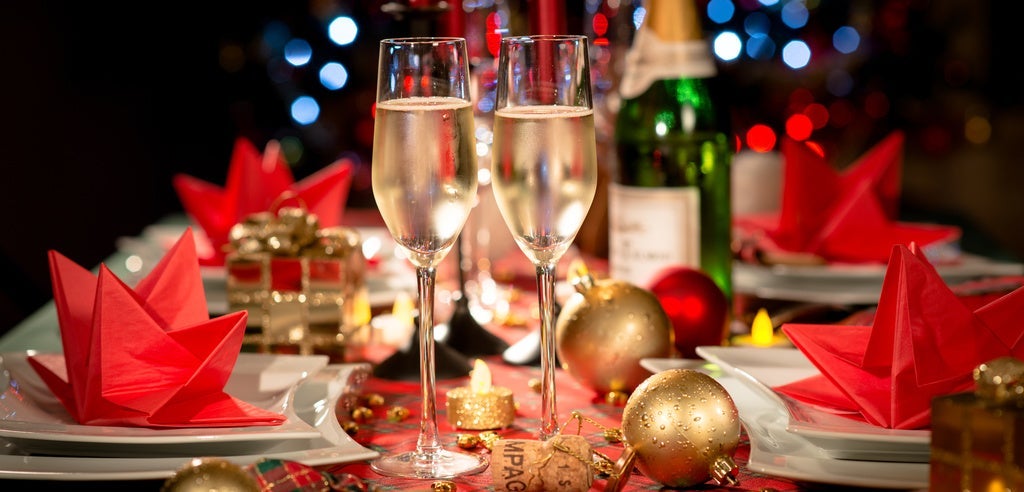 Too early to be thinking about Christmas parties?  Well we already have a Christmas tree up in our house, yes you read that right.  My wife LOVES the build up to Christmas.  So I feel that I would be doing you all a disservice if I didn't have you prepped and ready for your festive fun.
As we count down the weeks to the most wonderful time of the year, being tasked with the all-important role of playing host to that annual Christmas get together with friends or family can seem like a daunting prospect – but it doesn't have to be.
Make this festive season your best one yet.  Check out 5 easy tips for being a great host, and you'll be able to whip up an enjoyable and stress-free party that your guests will be talking about for weeks afterwards. 
1. 
Planning ahead is key
– When hosting an event of any scale, meticulous planning can make the difference between a night to remember and a night you'd rather forget. Write detailed to-do lists and shopping lists, splitting them into different categories for food and drinks, decorations, entertainment and gifts, ticking things off as you go – this way you won't forget anything.  
Find out if any of your guests have dietary restrictions and plan accordingly, making sure you'll have dairy-free, gluten-free, or vegetarian substitutions available, depending on their needs. At the same time, inquire whether anyone is allergic to any pets you may have, so you can plan to keep your dog or cat in a separate room. When it comes to planning the menu, remember that there is elegance in simplicity. A complex dish that requires lots of effort and concentration will not only keep you apart from your guests, but may elevate your stress level. Also, cook something that you already know is a crowd-pleaser; this is not the time for experimentation. Try to include appetizers or a dessert that can be easily prepared ahead of time or assembled on the spot. You'll be grateful for the extra time and energy this will free up.

2.  Create a comfortable and relaxing vibe
- Part of hosting a successful party is creating a welcoming atmosphere that invites your guests to relax and get comfortable. Start with a well-cleaned house and add attractive details, like candles, flowers, and soft lighting, to add a sense of occasion. A good music playlist running in the background is another effective way to promote a relaxing ambiance and to fill any awkward gaps in conversation. And no matter what, stay calm and collected—as host, the vibe you give off sets the tone for the overall feel of the party. Be warm and informal to signal the chill mood and to reassure your guests that their enjoyment is not an imposition.
Attention to detail is important so choose a colour scheme which will run throughout everything from tree decorations, to flowers, table settings and candles. A scented candle can evoke real scents of Christmas, allowing guests to reflect on their favourite festive memories. Keep your colour scheme as complimentary to your home décor as possible.

3.  Pamper your guests
- What your guests will probably remember most about your party (other than the delicious food) is how pampered you made them feel. From the moment they walk through your door, greet your guests individually and relieve them of their coats and belongings. Lead them to a comfy area where munchies are already set up and offer them a drink. Take the time to introduce newly-arrived guests to those they don't know, and remember to help shyer people integrate into the group by bringing up things they may have in common as a conversation starter. Throughout the evening, keep food and drinks topped up and check in with each guest periodically to chat and see if they need anything. Finally, don't forget to thank each guest personally when it's time for them to leave.
4.  Prepare more food than you think you need
- Plan to have an over-abundance of food and drinks. It's better to have too much than to run out partway through the evening. A good rule of thumb is to prepare enough food for the number of confirmed guests plus 2 extra. Be sure to have some appetizers to go with pre-dinner cocktails and liquor. Finger foods are great for keeping hands occupied and offsetting the effects of alcohol on an empty stomach. Keep the side dishes simple, and make the main course the star of the show. And don't forget to end a meal with a delicious dessert. If there are too many leftovers, pack some up to send it home with your guests–it's a generous gesture they will appreciate the following day.
5.  Entertain your guests
– Make sure the atmosphere doesn't fall flat by creating a music playlist with a selection of disco favourites and Christmas classics, and set this to play just before your guests are due to arrive. Prepare some fun party games for after dinner to carry on the merriment into the evening. If you have any younger guests, have a couple of at-the-table activities on hand to keep them occupied, like a Christmas colouring book or the cracker contents will never let you down.
6.  Make time after dinner to relax
- Once the feasting is done, rather than hurrying your guests out the door, prolong the relaxing vibe by moving to an area with cozy seating for an after-dinner coffee and pleasant conversation. You can do some minimal tidying at this point, but leave the dishes and major clean-up for after your visitors are gone. Unwind with your guests and enjoy the feeling of having hosted a fun and enjoyable soiree that they will remember for some time to come.
Justin