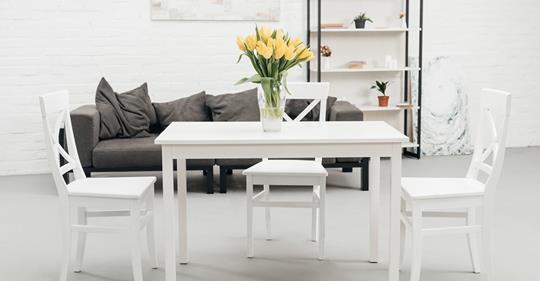 A majority of the population spends as much as 90 percent of their lives indoors. Two-thirds of that is spent inside the home. Sadly, very few of us consider how much our home life impacts our wellbeing. With just a few changes inside the home, you can create a healthier space that promotes good mood and improves relationships. Here are a few suggestions.
Balance Social And Private Spots
Studies suggest that the key to happiness resides in the strong bonds we form with family and friends. As such, it's important to have spots throughout the home that are conducive to socializing. Sharing a regular meal around the dining table is ideal. Alternately, too much social can often lead to conflict, so be sure you have areas where people can get away to be alone when they need.
Have A Dedicated Workspace
Today's digital world allows many of us to work from home. Unfortunately, most people who do telecommute don't have a dedicated workspace. To create a healthier work and home environment, it's best to have a separate workspace that you can close the door on at the end of the day. Ideally, the space will include natural lighting, a few green plants, and décor you find stimulating or pleasing.
Research shows that a flood of natural light instantly improves mood and maintains good health. Adding natural light is relatively easy. Simply wash your windows more often and pull curtains back. Consider replacing solid wood doors with glass ones to allow light to filter through from one room to another. Allowing as much natural light as possible to infiltrate your home helps regulate sleep patterns and balance hormone levels so you feel better overall.
A home that's heated properly can have a dramatic impact on your health and your wallet. Cold, drafty, poorly heated rooms can be uncomfortable and weaken your immune system. The first step is to ensure your home is insulated properly. This will help the heat stay in and keep temperatures consistent. Consider installing in-floor heating as it delivers a more consistent heat. Alternately, installing a wood burning stove or a heat source with fake flickering flames will give your home a feeling of warmth and comfort.
Too much noise can have devastating consequences on our health and wellbeing. From being unable to recuperate from stress to not being able to sleep properly, constant noise is a bad thing. While it's very difficult to eliminate noise completely, you can soundproof areas of your home by strategically placing furniture or installing soundproof doors and floors. Try to have at least one spot in your home that doesn't include any electronics to give family members a space of peace and quiet.
Cutting down on clutter in every room of your home can greatly reduce stress. Implement storage space to organize belongings and get rid of things you no longer need or use. A more minimalist lifestyle can save time and drastically improve your overall mood.
Justin