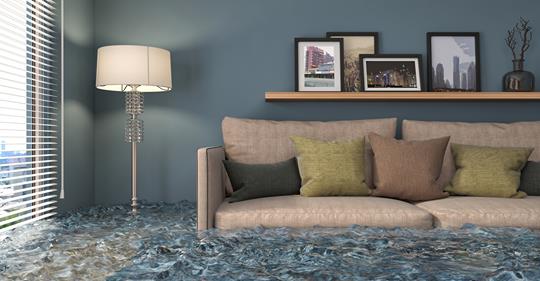 Most homeowners don't give water damage a second thought until it happens in their homes. In fact, many homeowners don't even have flood insurance to cover the major loss. Water damage can be caused by many things. From a small leak in a pipe under the kitchen sink to a major flood caused by Mother Nature, the loss can be in the thousands of dollars.
Do's To Lessen Water Damage Loss
Whether you have the proper insurance or not, the key to containing water damage loss is to act fast. The faster you remove the water, the less damage your property will sustain. Ultimately, you'll want to keep safety in mind as you work to fix the damage. If your entire house is affected, you'll need to find somewhere else to stay until it is repaired. Avoid any electrical hazards by turning off the main power to the home. 
Be cautious of slippery surfaces and keep in mind that wet furniture is extremely heavy, so be careful when trying to move it. 
Finally, stay out of rooms where the ceilings are sagging. Contact a water damage restoration company to help you address the problem. They have the equipment and expertise to remove all the water so that it doesn't cause issues later on with bacteria, mildew, mold, and/or smell. 
While you wait for them to arrive, do the following: shut off the water to your home, gather up any floating objects, remove as much excess water as you can with shop vacs, buckets and mops, remove furniture and wipe wood finishes, place wood blocks covered in aluminum foil between furniture legs and wet carpeting, remove area rugs and remove any collectibles/artwork to a dry location.
Don'ts To Lessen Water Damage Loss In Your Home
The following mistakes are common among homeowners when water damage has occurred in their homes. 
Be sure you don't do any of the following if water has caused a problem in your home. 
Don't leave wet fabrics where they are. Take them out and prop them up/hang them up to allow for adequate air flow around them so they dry quickly. This is especially necessary for cushions, rugs, and the like. 
Don't leave colored items that can bleed on wet floors or carpet, never use your vacuum to remove water.
Don't attempt to use your TV or other electrical devices while standing in water or if they may have come in contact with water.  
Don't use any household appliances.
Don't turn on light fixtures or ceiling fans if the ceiling appears to be sagging or looks wet.

Water damage in a home can happen to anyone at any time. 
From leaky pipes to Mother Nature's fury, water damage loss can be devastating if not addressed as quickly as possible. 
The tips above will help you reduce your loss and keep you safe should water damage occur in your home.

Team Elevation Realty