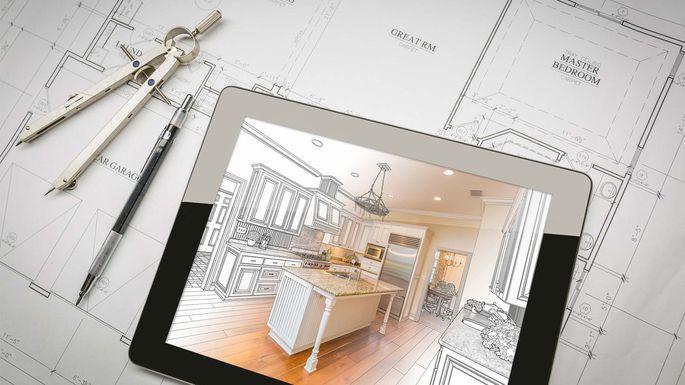 Many homeowners spend a great deal of time and money remodeling their homes. From adding a coat of fresh paint to the walls to tearing out a wall to open up a room. 

While renovating tends to add value and beauty to a home, doing so without the proper permits can be devastating. According to a recent study, of every 100 homeowners who make renovations to their homes, only 10-20 percent actually acquire the proper permits to make those renovations. Many people think minor remodels don't need permits, but the reality is, even just adding a light switch could require permission first.
Types Of Renovations That Require Permits
Anytime you make any structural changes to your home, you need a permit. In fact, you may need to acquire multiple permits for one project. No remodeling project is too small when it comes to needing permits. Kitchen, bathroom, and additions definitely need permission, but even small modifications such as installing new windows, replacing a tub surround, or even adding additional electrical outlets require a permit.
Why Permits Are Necessary
Before starting any remodeling project in your home, it's best to acquire the proper permits. If you aren't sure if the project needs a permit, contact the city where you live to ask. In terms of building permits and home remodels, it's better to be safe than sorry. Here are the four main reasons building permits are necessary.
1. Permits Help Ensure The Safety Of Your House
Whether you do the work yourself or you hire a contractor to complete the renovations, it's possible that some parts of the job won't get done correctly. When you acquire a permit, it includes a list of specific do's and don'ts to follow as you work to ensure the safety and accuracy of the job. The permit will also have safety guidelines to follow and what to do if certain situations occur.
2. Homeowner's Insurance Doesn't Cover Renovations Made Without A Permit
If a mishap occurs while renovations are being made, or if something happens to the home because of a remodel, an insurance adjuster will probably ask if you have the proper permits for the remodel. When you tell him that you don't, it's likely that the insurance company will deny your claim to cover the damages.
3. Permits Ensure A Smooth Sale
If you ever have to sell your home after making renovations, you'll be asked to divulge any information about the home that may be important. You'll have to include the fact that you made modifications, which will likely trigger a home inspection. When the inspector comes in, he or she will need to know that all renovations were done correctly and if those renovations included things like hanging drywall or installing electrical wiring in the walls. It's possible the walls will need to be torn out to verify structural and electrical safety. As the homeowner, you'll be responsible for repairing the damage of this verification before the house can be sold. If you acquire the proper permits beforehand, all that beautiful ceramic tiling you installed in the bathroom will remain untouched.
4. Permits Ensure City Records Include The Right Square Footage Of Your Home
If you don't get a permit before making an addition to your home, the added square footage will not be recorded in government records. This means if you must sell your home, it will not be worth as much as it should be. It also might mean that a bank might deny financing to a buyer interested in purchasing your home.
You might think your small home remodel isn't worthy of a permit, but the reality is, almost any renovation you make requires a permit. Be sure to inquire if your project needs a permit before you begin to avoid unsavory consequences.
- Justin