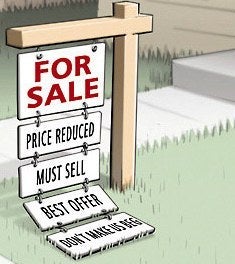 I can almost guarantee that if your house isn't selling, you are guilty of at least one of the following reasons.  So hold tight for some honest talk: 
1.   This could possibly be THE biggest mistake and definitely the most popular - not listening to the market (or your agent about the market!!!).  If you price your home low, you could end up with multiple offers but at the very least, your home will be snapped up quickly.  If you price your home too high, it will take much longer to sell.  Listen to your agent; if you are not getting any showings, guess what, your home is overpriced.  If you are getting showings but no offers, take a look at the feedback that your agent is getting.  
Bottom line, your house is only worth what somebody else is willing to pay, no matter how much you love your home and no matter what your opinion is in terms of its value, so if its not selling, it could be the price.  
2.  Buyers will judge a book, no question.  If your home is not well maintained, worn carpet, scuffed marks on the walls, it will be safe to presume that things the Buyer cannot see, like the furnace, AC etc are not well maintained either.  When your home is judged to its detriment, it becomes less valuable in the Buyers eyes and they will look elsewhere.   
3.  You cannot sell your home if potential Buyers are not able to get in to see it and the more people who see your home, the more likely you are to sell it for top dollar. Most showings happen in the evenings or on weekends when it's most convenient for Buyers, which of course, means that's also when it's the least convenient for you and it mind boggles me when Seller's refuse a showing.  The simple truth is that selling your home is inconvenient but the quicker you sell it, the quicker you can go back to some sort of normality.  As a Seller, you have to flexible and ready to showcase your home at a moments notice because if you refuse a showing, that Buyer may not bother to reschedule.  So be ready 7 days a week, and do yourself a favour, don't book any trips away unless you are 100% contactable.  An empty home is great for the convenience of showings, but not so great if an offer is received and the negoitation process needs to start.  
4. Never walk away from a low ball offer just because it offends you!!!! The starting offer is simply that, the start of negotiations.  You want the most for your home and the Buyer wants a bargain.  Both Seller and Buyer want to come out of this transaction feeling like they won!! 
It is hard to not take a low ball offer personally, but remember that if a Buyer really wants to buy your house, they will eventually pay what you are willing to accept.  Its just a matter of negotiating to a point where both parties are happy and that's where the skill of your agent comes in. 
5. Do not, and I repeat do not stay at home and be present during showings.  It doesns't happen often to me when I show houses, although it actually did happen when my wife and I bought our home.  Grandma was left in the corner of one of the bedrooms upstairs.  We did still buy the house so those Sellers were lucky but having the owners lurking is the quickest way to put a Buyer off looking at your home, no matter what your house shows like. Its uncomfortable and very awkward.  Just don't do it.  
6. There's a lot more to selling your house than just listing it on the MLS, and if your agent doesn't have a proactive plan to market your home, you need to insist on it. A comprehensive marketing plan should include at a minimum, professional photography, online marketing, agent-to-agent marketing and open houses. 
Bonus reason and probably one that you have given absolutely no thought about.  Stop sharing the problems of your sale on social media….and that goes double for talking about the things you hate about your house. Smart agents will Google a Seller and there's nothing more damaging to your sale than if that agent sees your desperation and panic in writing so to speak.  
- Justin