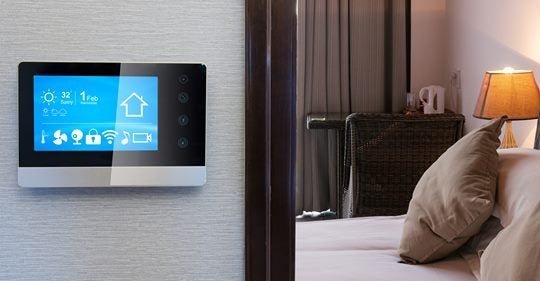 Life is stressful, but if you have the right technology close at hand, it can be much easier and convenient. Here are seven pieces of technology that you simply must have in your home right now.
Make forgetting or losing your house key a thing of the past by installing keyless door locks. With several brands on the market to choose from, these locks work using your smartphone, and many come complete with video cameras to keep your home safe and secure. Need to let the dog walker in while you're at work? Simply unlock your front door using the smartphone app and she'll be on her way.
Using Alexa voice commands, the Echo and Echo dot can make calls, operate smart devices, and even create a shopping list for you. These speaker-like devices turn your regular, uninspired house into a smart home full of possibilities.
Anytime you can save money and make life more convenient, it's a good thing. That's exactly what happens when you install a smart thermostat in your home. Designed to work with your smartphone, these devices "learn" your heating and cooling needs by sensing your location in the home.
If you're worried about leaving Fido in the dark or that your home might be the target of a break-in, shed some light on the situation with the Belkin Wemo Switch. Working easily using a smartphone app, you can turn lights on anytime while you're away, making sure Fido feels safe and that your home looks occupied to anyone with ill intentions.
In case you're a Google person rather than an Amazon one, there's the Echo alternative aptly called "Google Home." Voice activated and pack full of the latest Google browsing technology, Google Home can manage your playlists, help you with scheduling, and even teach you a new language.
Ikea Wireless Charging Nightstand
If you're like most smartphone users, you plug your phone in and lay it on your nightstand when you go to sleep. Ikea makes this even easier with a wireless charging nightstand. Simply set your phone on the table and enjoy a good night's rest without worry of whether you plugged the device in or not.
Showerhead Speaker From Kohler
If the taking a shower without tunes sounds unbelievable to you, you'll love the speaker showerhead from Kohler. Designed as a waterproof speaker and high-powered shower head in one, this smart invention delivers the music you love and the water pressure you desire to create an amazing shower experience.
The world is full of amazing technology that makes life easier and more convenient. The above gadgets are just a few unique and helpful pieces of technology you simply must have in your home right now.
Justin