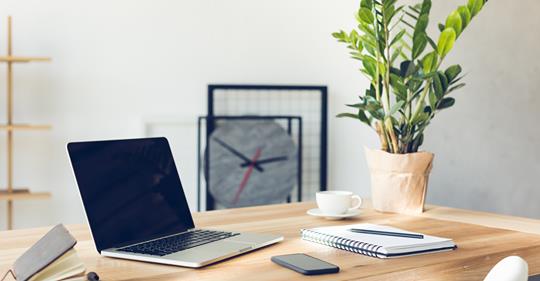 Whether you work from home daily or just once in awhile, you need an environment that's conducive to success. Here's how to create the perfect home office.
Your office can be an individual room or simply a portion of a room that serves another purpose. Whatever the case, it should be private, quiet, and free of distractions. Consider the equipment and furniture you'll need to be successful in doing your job at home. A desk, computer, file cabinet, etc. – where will it all go? Finally, choose a space that gets plenty of natural lighting as it may increase productivity by up to 40 percent.
Give The Space Some Personality
Making the space your own will make it much easier to spend time there. Have fun with the design of the room and choose something that reflects your style. Whether it's rustic chic, sophisticated, or modern, search around to find exactly what makes you happy. And pay close attention to color. Consider blues for creativity or reds to help you concentrate.
Get Your Office Furniture
Consider the nature of your job, what equipment you'll be using, and how your job affects your body. Sitting at a computer is very stressing on the back, so consider a desk and chair that helps alleviate that stress. Beyond these two necessities, find shelves, cabinets, etc. to help organize everything else.
One of the things that make remote work possible is our ability to stay connected no matter where we are. If you're an employee, have your company's IT guys set up your computer, printer, and other technical equipment correctly. If you run your own small business, there are services available that can help you get everything online and connected.
Add The Finishing Touches
Accessories add the convenience you need to get the job done. For instance, consider a desktop organizer to help you keep small things like pens, pencils, stapler, paper clips, etc. neat and handy. Another helpful addition is proper lighting. Get lamps (desktop or floor-standing) and sconces (to hang on the wall) to create ample lighting. Finally, if you live in a bustling household, let others know when you're working by hanging a "Do Not Disturb" sign on the door.
It's likely you'll be spending a lot of time in your home office, so don't skimp on the things that make it feel comfortable for you. Do some research ahead of time to find out what colors and/or furnishings will help give the space a motivational vibe. The time you spend creating the perfect home office is worth it as you'll get more done and be happier while you do it.
Justin